Halloween 2022
Boys and girls of every age. Wouldn't you like to see something strange? Come with us and you will see. This, our League of Halloween 2022.
Start Date: 10/18/22, 12:00 AM, UTC
End Date: This league has no end date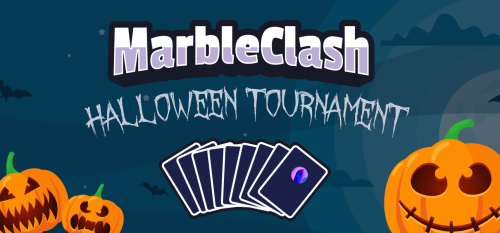 This league is used for the matches of the Halloween tournament.
Players must play best of 3. Please enter the results of your matches. if you won 2:1, you must also enter 2:1. If you won 2:0, you have to enter 2:0.
Rules
Deck: 10 Cards
Minimal rounds 5
Active Requirements
Achievements
Collection ID
Card Level
Card Attribute
Card Title Number of rows
Contains
Labels
Generation
Deactivated Requirements
So notice
No specific collections are required.
No Card ID (number) is required.
The word 'Halloween' will be one of the contains requirements for this tourney.
Last 10 Matches
| Date | Winner | Opponent | Rounds | Battle Hash |
| --- | --- | --- | --- | --- |
| 2022-12-04 21:18:53 | 👑 Bartleby | bla_bla_bla | 5 | |
| 2022-12-04 21:08:54 | 👑 Bartleby | bla_bla_bla | 5 | |
| 2022-12-02 14:13:15 | 👑 MarbleLarch | Outcat | 5 | |
| 2022-12-02 14:06:37 | 👑 MarbleLarch | Outcat | 5 | |
| 2022-11-27 20:00:30 | 👑 Bartleby | MarbleLarch | 5 | |
| 2022-11-27 19:41:37 | 👑 MarbleLarch | Bartleby | 4 | |
| 2022-11-27 19:34:42 | 👑 MarbleLarch | Bartleby | 5 | |
| 2022-11-27 19:27:20 | 👑 Bartleby | MarbleLarch | 5 | |
| 2022-11-26 12:42:00 | 👑 bla_bla_bla | Outcat | 5 | |
| 2022-11-26 12:33:26 | 👑 bla_bla_bla | Outcat | 5 | |
Players
| Player | Matches played | Wins |
| --- | --- | --- |
| Outcat | 19 | 10 |
| w0nvel | 9 | 2 |
| omahs | 5 | 2 |
| aronay79 | 1 | 1 |
| stormblessedj | 4 | 0 |
| dehenne | 12 | 5 |
| MarbleLarch | 15 | 12 |
| TantrumTyler | 7 | 3 |
| bla_bla_bla | 15 | 9 |
| EkoSawyer | 9 | 5 |
| PatzoMarco | 3 | 1 |
| 0x7cccf6cc4ca2aa8518739e06552aa00c90de3c4c | 1 | 0 |
| Sinistro1985 | 4 | 0 |
| Bartleby | 13 | 10 |
| SatoshiNakamoto | 5 | 1 |